{"id":6871614029991,"title":"Amazonas XXL Palacio Café Rod Hammock","handle":"amazonas-xxl-palacio-cafe-rod-hammock","description":"\u003cmeta charset=\"utf-8\"\u003e\n\u003cdiv data-mce-fragment=\"1\" class=\"product--description\" itemprop=\"description\"\u003e\n\u003ch2 data-mce-fragment=\"1\"\u003e\u003cbr\u003e\u003c\/h2\u003e\n\u003ch2 data-mce-fragment=\"1\"\u003eXXL  Palacio Café Rod Hammock\u003c\/h2\u003e\n\u003cp data-mce-fragment=\"1\"\u003e\u003cstrong data-mce-fragment=\"1\"\u003eAMAZONAS \u003cmeta charset=\"utf-8\"\u003ePalacio Café– quite possibly the biggest Brazilian hammock in the world!\u003c\/strong\u003e\u003c\/p\u003e\n\u003cp data-mce-fragment=\"1\"\u003e\u003cbr data-mce-fragment=\"1\"\u003e\u003cstrong\u003eTraditional and sustainable craft product, made in Brazil under fair working conditions.\u003c\/strong\u003e\u003c\/p\u003e\n\u003cp data-mce-fragment=\"1\"\u003e\u003cstrong data-mce-fragment=\"1\"\u003eAMAZONAS  XXL \u003c\/strong\u003ePalacio Café Rod Hammock \u003cstrong data-mce-fragment=\"1\"\u003edurable and long-lived\u003c\/strong\u003e\u003cbr\u003e\u003c\/p\u003e\n\u003cul data-mce-fragment=\"1\"\u003e\n\u003cli data-mce-fragment=\"1\"\u003eHammock for up to\u003cstrong data-mce-fragment=\"1\"\u003e\u003cspan data-mce-fragment=\"1\"\u003e \u003c\/span\u003e4 persons\u003c\/strong\u003e\n\u003c\/li\u003e\n\u003cli data-mce-fragment=\"1\"\u003e\n\u003cstrong data-mce-fragment=\"1\"\u003eMeasuring 6 m² (!!!),\u003c\/strong\u003e\u003cspan data-mce-fragment=\"1\"\u003e \u003c\/span\u003eextra tight woven hammock fabric for maximum comfort (at least 85% recycled cotton)\u003c\/li\u003e\n\u003cli data-mce-fragment=\"1\"\u003eNumerous suspension cords ensure even weight distribution in the hammock, giving you a\u003cspan data-mce-fragment=\"1\"\u003e \u003c\/span\u003e\u003cstrong data-mce-fragment=\"1\"\u003efeeling of weightlessness\u003c\/strong\u003e\n\u003c\/li\u003e\n\u003cli data-mce-fragment=\"1\"\u003eHandwoven cotton band, which is worked into the suspension cords, provides for the\u003cspan data-mce-fragment=\"1\"\u003e \u003c\/span\u003e\u003cstrong data-mce-fragment=\"1\"\u003ecompensation of high point loads\u003c\/strong\u003e\u003cspan data-mce-fragment=\"1\"\u003e \u003c\/span\u003eand ensures the\u003cspan data-mce-fragment=\"1\"\u003e \u003c\/span\u003e\u003cstrong data-mce-fragment=\"1\"\u003eperfect fanning out of the hammock\u003c\/strong\u003e\n\u003c\/li\u003e\n\u003cli data-mce-fragment=\"1\"\u003eHandwoven and double 5-fold sewn eyelets as a stable base for the numerous suspension cords\u003c\/li\u003e\n\u003cli data-mce-fragment=\"1\"\u003eThe 400 g\/m2 dense fabric can accommodate the whole family (up to maximum of 280 kg) and guarantees the hammock a long life \u003c\/li\u003e\n\u003c\/ul\u003e\n\u003cp data-mce-fragment=\"1\"\u003e\u003cstrong data-mce-fragment=\"1\"\u003eTraditional Brazilian craftsmanship guarantees exceptional stability\u003c\/strong\u003e\u003cbr data-mce-fragment=\"1\"\u003eVicente, our partner in Brazil, is responsible for choosing the right threads. He pays particular attention to stability, colour fastness and freedom from harmful substances. João, our master weaver, knots up to\u003cstrong data-mce-fragment=\"1\"\u003e\u003cspan data-mce-fragment=\"1\"\u003e \u003c\/span\u003e6000 longitudinal threads per hammock by hand\u003c\/strong\u003e. This, in combination with the high power of the loom, ensures the exceptional stability of AMAZONAS hammocks.\u003c\/p\u003e\n\u003cp data-mce-fragment=\"1\"\u003e\u003cstrong data-mce-fragment=\"1\"\u003e\u003cbr\u003e\u003c\/strong\u003e\u003c\/p\u003e\n\u003cp data-mce-fragment=\"1\"\u003e\u003cbr\u003e\u003cmeta charset=\"utf-8\"\u003e\u003c\/p\u003e\n\u003cdiv class=\"product--description\" itemprop=\"description\"\u003e\n\u003cp\u003e\u003cstrong\u003eIncluded in the delivery\u003c\/strong\u003e\u003c\/p\u003e\n\u003cul\u003e\n\u003cli\u003ePalacio Café Rod Hammock with colour-coordinated reusable cloth bag\u003c\/li\u003e\n\u003c\/ul\u003e\n\u003cp\u003e \u003c\/p\u003e\n\u003cp\u003e\u003cmeta charset=\"utf-8\"\u003e\u003cstrong\u003e\u003ca href=\"https:\/\/cosymanor.co.uk\/collections\/hammock-accessories\" title=\"Hammock accessories\"\u003e Order accessories here.\u003c\/a\u003e\u003c\/strong\u003e\u003c\/p\u003e\n\u003cp\u003e \u003c\/p\u003e\n\u003c\/div\u003e\n\u003cdiv class=\"product--properties panel has--border\"\u003e\n\u003ctable class=\"product--properties-table\"\u003e\n\u003ctbody\u003e\n\u003ctr class=\"product--properties-row\"\u003e\n\u003ctd class=\"product--properties-label is--bold\"\u003eLying surface:\u003c\/td\u003e\n\u003ctd class=\"product--properties-value\"\u003eca. 240 x 160 cm\u003c\/td\u003e\n\u003c\/tr\u003e\n\u003ctr class=\"product--properties-row\"\u003e\n\u003ctd class=\"product--properties-label is--bold\"\u003eTotal length:\u003c\/td\u003e\n\u003ctd class=\"product--properties-value\"\u003eca. 360 cm\u003c\/td\u003e\n\u003c\/tr\u003e\n\u003ctr class=\"product--properties-row\"\u003e\n\u003ctd class=\"product--properties-label is--bold\"\u003eLength wooden bar:\u003c\/td\u003e\n\u003ctd class=\"product--properties-value\"\u003eca. 140 cm\u003c\/td\u003e\n\u003c\/tr\u003e\n\u003ctr class=\"product--properties-row\"\u003e\n\u003ctd class=\"product--properties-label is--bold\"\u003eLoad-bearing capacity:\u003c\/td\u003e\n\u003ctd class=\"product--properties-value\"\u003emax. 200 kg\u003c\/td\u003e\n\u003c\/tr\u003e\n\u003ctr class=\"product--properties-row\"\u003e\n\u003ctd class=\"product--properties-label is--bold\"\u003eWeight:\u003c\/td\u003e\n\u003ctd class=\"product--properties-value\"\u003eca. 4,0 kg\u003c\/td\u003e\n\u003c\/tr\u003e\n\u003ctr class=\"product--properties-row\"\u003e\n\u003ctd class=\"product--properties-label is--bold\"\u003eMinimum suspension distance:\u003c\/td\u003e\n\u003ctd class=\"product--properties-value\"\u003e≥ 330 cm\u003c\/td\u003e\n\u003c\/tr\u003e\n\u003ctr class=\"product--properties-row\"\u003e\n\u003ctd class=\"product--properties-label is--bold\"\u003eRec. distance from the floor:\u003c\/td\u003e\n\u003ctd class=\"product--properties-value\"\u003eca. 40 - 50 cm\u003c\/td\u003e\n\u003c\/tr\u003e\n\u003ctr class=\"product--properties-row\"\u003e\n\u003ctd class=\"product--properties-label is--bold\"\u003eMaterial:\u003c\/td\u003e\n\u003ctd class=\"product--properties-value\"\u003e85% cotton (recycled), 15% polyester\u003c\/td\u003e\n\u003c\/tr\u003e\n\u003c\/tbody\u003e\n\u003c\/table\u003e\n\u003cp\u003e \u003cbr\u003e\u003c\/p\u003e\n\u003cp\u003e \u003cbr\u003e\u003c\/p\u003e\n\u003cp\u003e \u003cbr\u003e\u003c\/p\u003e\n\u003cp\u003e\u003cstrong\u003e Compatible frames:\u003c\/strong\u003e\u003c\/p\u003e\n\u003cp\u003e \u003c\/p\u003e\n\u003cp\u003e\u003cstrong\u003e    Arcus Hammock frame\u003c\/strong\u003e\u003c\/p\u003e\n\u003cp\u003e    \u003ca title=\"Arcus frame\" href=\"https:\/\/n87o5rmkww5kkddv-53104443559.shopifypreview.com\/collections\/hammock-frames\/products\/arcus-hammock-frame?_pos=1\u0026amp;_sid=ac972e4c5\u0026amp;_ss=r\"\u003e\u003cimg height=\"99\" width=\"150\" alt=\"\" src=\"https:\/\/www.amazonas-online.com\/media\/image\/1c\/0d\/fc\/AMAZONAS-Haengemattengestell-Arcus-1_600x600.jpg\"\u003e\u003c\/a\u003e\u003c\/p\u003e\n\u003cp\u003e \u003c\/p\u003e\n\u003cp\u003e \u003c\/p\u003e\n\u003cp\u003e   \u003cstrong data-mce-fragment=\"1\"\u003eTroja Hammock frame\u003c\/strong\u003e\u003c\/p\u003e\n\u003cp\u003e\u003cspan\u003e  \u003c\/span\u003e\u003ca href=\"https:\/\/cosymanor.co.uk\/products\/troja-hammock-frame?_pos=2\u0026amp;_sid=21afc3c2a\u0026amp;_ss=r\" title=\"Troja frame\"\u003e\u003cimg data-mce-fragment=\"1\" height=\"100\" width=\"150\" src=\"https:\/\/www.amazonas-online.com\/media\/image\/1c\/25\/b1\/Amazonas-Haengemattegestell-Troja-5.jpg\" data-mce-src=\"https:\/\/www.amazonas-online.com\/media\/image\/1c\/25\/b1\/Amazonas-Haengemattegestell-Troja-5.jpg\"\u003e\u003c\/a\u003e\u003cspan\u003e   \u003c\/span\u003e\u003c\/p\u003e\n\u003cp\u003e\u003cspan\u003e \u003c\/span\u003e\u003c\/p\u003e\n\u003cp\u003e\u003cspan\u003e \u003c\/span\u003e\u003c\/p\u003e\n\u003cp\u003e\u003cstrong\u003e Olymp Hammock frame\u003c\/strong\u003e\u003c\/p\u003e\n\u003cp\u003e\u003cspan\u003e \u003c\/span\u003e\u003ca href=\"https:\/\/cosymanor.co.uk\/products\/olymp-hammock-frame?_pos=1\u0026amp;_sid=756a4f1ae\u0026amp;_ss=r\" title=\"Olymp frame\" style=\"font-family: -apple-system, BlinkMacSystemFont, 'San Francisco', 'Segoe UI', Roboto, 'Helvetica Neue', sans-serif; font-size: 1.4em;\"\u003e\u003cimg data-mce-fragment=\"1\" height=\"150\" width=\"150\" src=\"https:\/\/cdn.shopify.com\/s\/files\/1\/0531\/0444\/3559\/products\/A204-19-F-01_1400x.jpg?v=1625401116\" data-mce-src=\"https:\/\/cdn.shopify.com\/s\/files\/1\/0531\/0444\/3559\/products\/A204-19-F-01_1400x.jpg?v=1625401116\"\u003e\u003c\/a\u003e\u003c\/p\u003e\n\u003c\/div\u003e\n\u003c\/div\u003e","published_at":"2022-05-22T23:13:23+01:00","created_at":"2021-06-29T18:23:53+01:00","vendor":"Amazonas","type":"Hammocks","tags":["Hammocks"],"price":21000,"price_min":21000,"price_max":21000,"available":true,"price_varies":false,"compare_at_price":null,"compare_at_price_min":0,"compare_at_price_max":0,"compare_at_price_varies":false,"variants":[{"id":40521495314599,"title":"Default Title","option1":"Default Title","option2":null,"option3":null,"sku":"AZ-1062200","requires_shipping":true,"taxable":true,"featured_image":null,"available":true,"name":"Amazonas XXL Palacio Café Rod Hammock","public_title":null,"options":["Default Title"],"price":21000,"weight":0,"compare_at_price":null,"inventory_management":"shopify","barcode":"4030454003186","requires_selling_plan":false,"selling_plan_allocations":[]}],"images":["\/\/cdn.shopify.com\/s\/files\/1\/0531\/0444\/3559\/products\/amazonas-hammock-palacio-cafe-1.jpg?v=1625400880","\/\/cdn.shopify.com\/s\/files\/1\/0531\/0444\/3559\/products\/amazonas-hammock-palacio-cafe-4.jpg?v=1625400881","\/\/cdn.shopify.com\/s\/files\/1\/0531\/0444\/3559\/products\/amazonas-hammock-palacio-cafe-6.jpg?v=1625400881","\/\/cdn.shopify.com\/s\/files\/1\/0531\/0444\/3559\/products\/amazonas-brasilien-label_126178d1-5939-46c8-902a-927a92e66ed3.jpg?v=1625400880","\/\/cdn.shopify.com\/s\/files\/1\/0531\/0444\/3559\/products\/Recycling-logo_2192f72b-5e5e-451c-ac78-688061dd0720.jpg?v=1625400880","\/\/cdn.shopify.com\/s\/files\/1\/0531\/0444\/3559\/products\/amazonas-hammock-palacio-cafe-2.jpg?v=1625400880","\/\/cdn.shopify.com\/s\/files\/1\/0531\/0444\/3559\/products\/amazonas-hammock-palacio-cafe-3.jpg?v=1625400881","\/\/cdn.shopify.com\/s\/files\/1\/0531\/0444\/3559\/products\/amazonas-hammock-palacio-cafe-5.jpg?v=1625400882"],"featured_image":"\/\/cdn.shopify.com\/s\/files\/1\/0531\/0444\/3559\/products\/amazonas-hammock-palacio-cafe-1.jpg?v=1625400880","options":["Title"],"media":[{"alt":null,"id":22185363570855,"position":1,"preview_image":{"aspect_ratio":1.0,"height":1502,"width":1502,"src":"https:\/\/cdn.shopify.com\/s\/files\/1\/0531\/0444\/3559\/products\/amazonas-hammock-palacio-cafe-1.jpg?v=1625400880"},"aspect_ratio":1.0,"height":1502,"media_type":"image","src":"https:\/\/cdn.shopify.com\/s\/files\/1\/0531\/0444\/3559\/products\/amazonas-hammock-palacio-cafe-1.jpg?v=1625400880","width":1502},{"alt":null,"id":22185365438631,"position":2,"preview_image":{"aspect_ratio":1.0,"height":1502,"width":1502,"src":"https:\/\/cdn.shopify.com\/s\/files\/1\/0531\/0444\/3559\/products\/amazonas-hammock-palacio-cafe-4.jpg?v=1625400881"},"aspect_ratio":1.0,"height":1502,"media_type":"image","src":"https:\/\/cdn.shopify.com\/s\/files\/1\/0531\/0444\/3559\/products\/amazonas-hammock-palacio-cafe-4.jpg?v=1625400881","width":1502},{"alt":null,"id":22185367896231,"position":3,"preview_image":{"aspect_ratio":1.0,"height":1502,"width":1502,"src":"https:\/\/cdn.shopify.com\/s\/files\/1\/0531\/0444\/3559\/products\/amazonas-hammock-palacio-cafe-6.jpg?v=1625400881"},"aspect_ratio":1.0,"height":1502,"media_type":"image","src":"https:\/\/cdn.shopify.com\/s\/files\/1\/0531\/0444\/3559\/products\/amazonas-hammock-palacio-cafe-6.jpg?v=1625400881","width":1502},{"alt":null,"id":22185369960615,"position":4,"preview_image":{"aspect_ratio":1.0,"height":1387,"width":1387,"src":"https:\/\/cdn.shopify.com\/s\/files\/1\/0531\/0444\/3559\/products\/amazonas-brasilien-label_126178d1-5939-46c8-902a-927a92e66ed3.jpg?v=1625400880"},"aspect_ratio":1.0,"height":1387,"media_type":"image","src":"https:\/\/cdn.shopify.com\/s\/files\/1\/0531\/0444\/3559\/products\/amazonas-brasilien-label_126178d1-5939-46c8-902a-927a92e66ed3.jpg?v=1625400880","width":1387},{"alt":null,"id":22185371730087,"position":5,"preview_image":{"aspect_ratio":1.0,"height":586,"width":586,"src":"https:\/\/cdn.shopify.com\/s\/files\/1\/0531\/0444\/3559\/products\/Recycling-logo_2192f72b-5e5e-451c-ac78-688061dd0720.jpg?v=1625400880"},"aspect_ratio":1.0,"height":586,"media_type":"image","src":"https:\/\/cdn.shopify.com\/s\/files\/1\/0531\/0444\/3559\/products\/Recycling-logo_2192f72b-5e5e-451c-ac78-688061dd0720.jpg?v=1625400880","width":586},{"alt":null,"id":22185375596711,"position":6,"preview_image":{"aspect_ratio":1.0,"height":1502,"width":1502,"src":"https:\/\/cdn.shopify.com\/s\/files\/1\/0531\/0444\/3559\/products\/amazonas-hammock-palacio-cafe-2.jpg?v=1625400880"},"aspect_ratio":1.0,"height":1502,"media_type":"image","src":"https:\/\/cdn.shopify.com\/s\/files\/1\/0531\/0444\/3559\/products\/amazonas-hammock-palacio-cafe-2.jpg?v=1625400880","width":1502},{"alt":null,"id":22185378283687,"position":7,"preview_image":{"aspect_ratio":1.0,"height":1502,"width":1502,"src":"https:\/\/cdn.shopify.com\/s\/files\/1\/0531\/0444\/3559\/products\/amazonas-hammock-palacio-cafe-3.jpg?v=1625400881"},"aspect_ratio":1.0,"height":1502,"media_type":"image","src":"https:\/\/cdn.shopify.com\/s\/files\/1\/0531\/0444\/3559\/products\/amazonas-hammock-palacio-cafe-3.jpg?v=1625400881","width":1502},{"alt":null,"id":22185379823783,"position":8,"preview_image":{"aspect_ratio":1.0,"height":1502,"width":1502,"src":"https:\/\/cdn.shopify.com\/s\/files\/1\/0531\/0444\/3559\/products\/amazonas-hammock-palacio-cafe-5.jpg?v=1625400882"},"aspect_ratio":1.0,"height":1502,"media_type":"image","src":"https:\/\/cdn.shopify.com\/s\/files\/1\/0531\/0444\/3559\/products\/amazonas-hammock-palacio-cafe-5.jpg?v=1625400882","width":1502}],"requires_selling_plan":false,"selling_plan_groups":[],"content":"\u003cmeta charset=\"utf-8\"\u003e\n\u003cdiv data-mce-fragment=\"1\" class=\"product--description\" itemprop=\"description\"\u003e\n\u003ch2 data-mce-fragment=\"1\"\u003e\u003cbr\u003e\u003c\/h2\u003e\n\u003ch2 data-mce-fragment=\"1\"\u003eXXL  Palacio Café Rod Hammock\u003c\/h2\u003e\n\u003cp data-mce-fragment=\"1\"\u003e\u003cstrong data-mce-fragment=\"1\"\u003eAMAZONAS \u003cmeta charset=\"utf-8\"\u003ePalacio Café– quite possibly the biggest Brazilian hammock in the world!\u003c\/strong\u003e\u003c\/p\u003e\n\u003cp data-mce-fragment=\"1\"\u003e\u003cbr data-mce-fragment=\"1\"\u003e\u003cstrong\u003eTraditional and sustainable craft product, made in Brazil under fair working conditions.\u003c\/strong\u003e\u003c\/p\u003e\n\u003cp data-mce-fragment=\"1\"\u003e\u003cstrong data-mce-fragment=\"1\"\u003eAMAZONAS  XXL \u003c\/strong\u003ePalacio Café Rod Hammock \u003cstrong data-mce-fragment=\"1\"\u003edurable and long-lived\u003c\/strong\u003e\u003cbr\u003e\u003c\/p\u003e\n\u003cul data-mce-fragment=\"1\"\u003e\n\u003cli data-mce-fragment=\"1\"\u003eHammock for up to\u003cstrong data-mce-fragment=\"1\"\u003e\u003cspan data-mce-fragment=\"1\"\u003e \u003c\/span\u003e4 persons\u003c\/strong\u003e\n\u003c\/li\u003e\n\u003cli data-mce-fragment=\"1\"\u003e\n\u003cstrong data-mce-fragment=\"1\"\u003eMeasuring 6 m² (!!!),\u003c\/strong\u003e\u003cspan data-mce-fragment=\"1\"\u003e \u003c\/span\u003eextra tight woven hammock fabric for maximum comfort (at least 85% recycled cotton)\u003c\/li\u003e\n\u003cli data-mce-fragment=\"1\"\u003eNumerous suspension cords ensure even weight distribution in the hammock, giving you a\u003cspan data-mce-fragment=\"1\"\u003e \u003c\/span\u003e\u003cstrong data-mce-fragment=\"1\"\u003efeeling of weightlessness\u003c\/strong\u003e\n\u003c\/li\u003e\n\u003cli data-mce-fragment=\"1\"\u003eHandwoven cotton band, which is worked into the suspension cords, provides for the\u003cspan data-mce-fragment=\"1\"\u003e \u003c\/span\u003e\u003cstrong data-mce-fragment=\"1\"\u003ecompensation of high point loads\u003c\/strong\u003e\u003cspan data-mce-fragment=\"1\"\u003e \u003c\/span\u003eand ensures the\u003cspan data-mce-fragment=\"1\"\u003e \u003c\/span\u003e\u003cstrong data-mce-fragment=\"1\"\u003eperfect fanning out of the hammock\u003c\/strong\u003e\n\u003c\/li\u003e\n\u003cli data-mce-fragment=\"1\"\u003eHandwoven and double 5-fold sewn eyelets as a stable base for the numerous suspension cords\u003c\/li\u003e\n\u003cli data-mce-fragment=\"1\"\u003eThe 400 g\/m2 dense fabric can accommodate the whole family (up to maximum of 280 kg) and guarantees the hammock a long life \u003c\/li\u003e\n\u003c\/ul\u003e\n\u003cp data-mce-fragment=\"1\"\u003e\u003cstrong data-mce-fragment=\"1\"\u003eTraditional Brazilian craftsmanship guarantees exceptional stability\u003c\/strong\u003e\u003cbr data-mce-fragment=\"1\"\u003eVicente, our partner in Brazil, is responsible for choosing the right threads. He pays particular attention to stability, colour fastness and freedom from harmful substances. João, our master weaver, knots up to\u003cstrong data-mce-fragment=\"1\"\u003e\u003cspan data-mce-fragment=\"1\"\u003e \u003c\/span\u003e6000 longitudinal threads per hammock by hand\u003c\/strong\u003e. This, in combination with the high power of the loom, ensures the exceptional stability of AMAZONAS hammocks.\u003c\/p\u003e\n\u003cp data-mce-fragment=\"1\"\u003e\u003cstrong data-mce-fragment=\"1\"\u003e\u003cbr\u003e\u003c\/strong\u003e\u003c\/p\u003e\n\u003cp data-mce-fragment=\"1\"\u003e\u003cbr\u003e\u003cmeta charset=\"utf-8\"\u003e\u003c\/p\u003e\n\u003cdiv class=\"product--description\" itemprop=\"description\"\u003e\n\u003cp\u003e\u003cstrong\u003eIncluded in the delivery\u003c\/strong\u003e\u003c\/p\u003e\n\u003cul\u003e\n\u003cli\u003ePalacio Café Rod Hammock with colour-coordinated reusable cloth bag\u003c\/li\u003e\n\u003c\/ul\u003e\n\u003cp\u003e \u003c\/p\u003e\n\u003cp\u003e\u003cmeta charset=\"utf-8\"\u003e\u003cstrong\u003e\u003ca href=\"https:\/\/cosymanor.co.uk\/collections\/hammock-accessories\" title=\"Hammock accessories\"\u003e Order accessories here.\u003c\/a\u003e\u003c\/strong\u003e\u003c\/p\u003e\n\u003cp\u003e \u003c\/p\u003e\n\u003c\/div\u003e\n\u003cdiv class=\"product--properties panel has--border\"\u003e\n\u003ctable class=\"product--properties-table\"\u003e\n\u003ctbody\u003e\n\u003ctr class=\"product--properties-row\"\u003e\n\u003ctd class=\"product--properties-label is--bold\"\u003eLying surface:\u003c\/td\u003e\n\u003ctd class=\"product--properties-value\"\u003eca. 240 x 160 cm\u003c\/td\u003e\n\u003c\/tr\u003e\n\u003ctr class=\"product--properties-row\"\u003e\n\u003ctd class=\"product--properties-label is--bold\"\u003eTotal length:\u003c\/td\u003e\n\u003ctd class=\"product--properties-value\"\u003eca. 360 cm\u003c\/td\u003e\n\u003c\/tr\u003e\n\u003ctr class=\"product--properties-row\"\u003e\n\u003ctd class=\"product--properties-label is--bold\"\u003eLength wooden bar:\u003c\/td\u003e\n\u003ctd class=\"product--properties-value\"\u003eca. 140 cm\u003c\/td\u003e\n\u003c\/tr\u003e\n\u003ctr class=\"product--properties-row\"\u003e\n\u003ctd class=\"product--properties-label is--bold\"\u003eLoad-bearing capacity:\u003c\/td\u003e\n\u003ctd class=\"product--properties-value\"\u003emax. 200 kg\u003c\/td\u003e\n\u003c\/tr\u003e\n\u003ctr class=\"product--properties-row\"\u003e\n\u003ctd class=\"product--properties-label is--bold\"\u003eWeight:\u003c\/td\u003e\n\u003ctd class=\"product--properties-value\"\u003eca. 4,0 kg\u003c\/td\u003e\n\u003c\/tr\u003e\n\u003ctr class=\"product--properties-row\"\u003e\n\u003ctd class=\"product--properties-label is--bold\"\u003eMinimum suspension distance:\u003c\/td\u003e\n\u003ctd class=\"product--properties-value\"\u003e≥ 330 cm\u003c\/td\u003e\n\u003c\/tr\u003e\n\u003ctr class=\"product--properties-row\"\u003e\n\u003ctd class=\"product--properties-label is--bold\"\u003eRec. distance from the floor:\u003c\/td\u003e\n\u003ctd class=\"product--properties-value\"\u003eca. 40 - 50 cm\u003c\/td\u003e\n\u003c\/tr\u003e\n\u003ctr class=\"product--properties-row\"\u003e\n\u003ctd class=\"product--properties-label is--bold\"\u003eMaterial:\u003c\/td\u003e\n\u003ctd class=\"product--properties-value\"\u003e85% cotton (recycled), 15% polyester\u003c\/td\u003e\n\u003c\/tr\u003e\n\u003c\/tbody\u003e\n\u003c\/table\u003e\n\u003cp\u003e \u003cbr\u003e\u003c\/p\u003e\n\u003cp\u003e \u003cbr\u003e\u003c\/p\u003e\n\u003cp\u003e \u003cbr\u003e\u003c\/p\u003e\n\u003cp\u003e\u003cstrong\u003e Compatible frames:\u003c\/strong\u003e\u003c\/p\u003e\n\u003cp\u003e \u003c\/p\u003e\n\u003cp\u003e\u003cstrong\u003e    Arcus Hammock frame\u003c\/strong\u003e\u003c\/p\u003e\n\u003cp\u003e    \u003ca title=\"Arcus frame\" href=\"https:\/\/n87o5rmkww5kkddv-53104443559.shopifypreview.com\/collections\/hammock-frames\/products\/arcus-hammock-frame?_pos=1\u0026amp;_sid=ac972e4c5\u0026amp;_ss=r\"\u003e\u003cimg height=\"99\" width=\"150\" alt=\"\" src=\"https:\/\/www.amazonas-online.com\/media\/image\/1c\/0d\/fc\/AMAZONAS-Haengemattengestell-Arcus-1_600x600.jpg\"\u003e\u003c\/a\u003e\u003c\/p\u003e\n\u003cp\u003e \u003c\/p\u003e\n\u003cp\u003e \u003c\/p\u003e\n\u003cp\u003e   \u003cstrong data-mce-fragment=\"1\"\u003eTroja Hammock frame\u003c\/strong\u003e\u003c\/p\u003e\n\u003cp\u003e\u003cspan\u003e  \u003c\/span\u003e\u003ca href=\"https:\/\/cosymanor.co.uk\/products\/troja-hammock-frame?_pos=2\u0026amp;_sid=21afc3c2a\u0026amp;_ss=r\" title=\"Troja frame\"\u003e\u003cimg data-mce-fragment=\"1\" height=\"100\" width=\"150\" src=\"https:\/\/www.amazonas-online.com\/media\/image\/1c\/25\/b1\/Amazonas-Haengemattegestell-Troja-5.jpg\" data-mce-src=\"https:\/\/www.amazonas-online.com\/media\/image\/1c\/25\/b1\/Amazonas-Haengemattegestell-Troja-5.jpg\"\u003e\u003c\/a\u003e\u003cspan\u003e   \u003c\/span\u003e\u003c\/p\u003e\n\u003cp\u003e\u003cspan\u003e \u003c\/span\u003e\u003c\/p\u003e\n\u003cp\u003e\u003cspan\u003e \u003c\/span\u003e\u003c\/p\u003e\n\u003cp\u003e\u003cstrong\u003e Olymp Hammock frame\u003c\/strong\u003e\u003c\/p\u003e\n\u003cp\u003e\u003cspan\u003e \u003c\/span\u003e\u003ca href=\"https:\/\/cosymanor.co.uk\/products\/olymp-hammock-frame?_pos=1\u0026amp;_sid=756a4f1ae\u0026amp;_ss=r\" title=\"Olymp frame\" style=\"font-family: -apple-system, BlinkMacSystemFont, 'San Francisco', 'Segoe UI', Roboto, 'Helvetica Neue', sans-serif; font-size: 1.4em;\"\u003e\u003cimg data-mce-fragment=\"1\" height=\"150\" width=\"150\" src=\"https:\/\/cdn.shopify.com\/s\/files\/1\/0531\/0444\/3559\/products\/A204-19-F-01_1400x.jpg?v=1625401116\" data-mce-src=\"https:\/\/cdn.shopify.com\/s\/files\/1\/0531\/0444\/3559\/products\/A204-19-F-01_1400x.jpg?v=1625401116\"\u003e\u003c\/a\u003e\u003c\/p\u003e\n\u003c\/div\u003e\n\u003c\/div\u003e"}
Amazonas XXL Palacio Café Rod Hammock
Why Buy From Us?
FREE Delivery on Selected Items✓
Authorised Dealer ✓
100% Secure Shopping ✓
No Hidden Fees ✓
Great Customer Service ✓


XXL  Palacio Café Rod Hammock
AMAZONAS Palacio Café– quite possibly the biggest Brazilian hammock in the world!

Traditional and sustainable craft product, made in Brazil under fair working conditions.
AMAZONAS  XXL Palacio Café Rod Hammock durable and long-lived

Hammock for up to

 

4 persons
Measuring 6 m² (!!!),

 

extra tight woven hammock fabric for maximum comfort (at least 85% recycled cotton)
Numerous suspension cords ensure even weight distribution in the hammock, giving you a

 

feeling of weightlessness
Handwoven cotton band, which is worked into the suspension cords, provides for the

 

compensation of high point loads

 

and ensures the

 

perfect fanning out of the hammock
Handwoven and double 5-fold sewn eyelets as a stable base for the numerous suspension cords
The 400 g/m2 dense fabric can accommodate the whole family (up to maximum of 280 kg) and guarantees the hammock a long life 
Traditional Brazilian craftsmanship guarantees exceptional stability
Vicente, our partner in Brazil, is responsible for choosing the right threads. He pays particular attention to stability, colour fastness and freedom from harmful substances. João, our master weaver, knots up to 6000 longitudinal threads per hammock by hand. This, in combination with the high power of the loom, ensures the exceptional stability of AMAZONAS hammocks.
Included in the delivery
Palacio Café Rod Hammock with colour-coordinated reusable cloth bag
| | |
| --- | --- |
| Lying surface: | ca. 240 x 160 cm |
| Total length: | ca. 360 cm |
| Length wooden bar: | ca. 140 cm |
| Load-bearing capacity: | max. 200 kg |
| Weight: | ca. 4,0 kg |
| Minimum suspension distance: | ≥ 330 cm |
| Rec. distance from the floor: | ca. 40 - 50 cm |
| Material: | 85% cotton (recycled), 15% polyester |
 Compatible frames:
    Arcus Hammock frame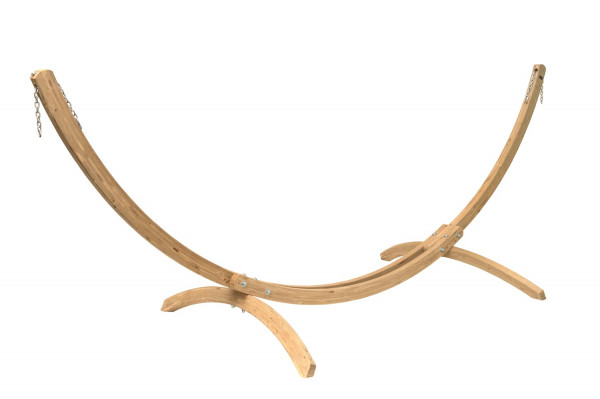 Troja Hammock frame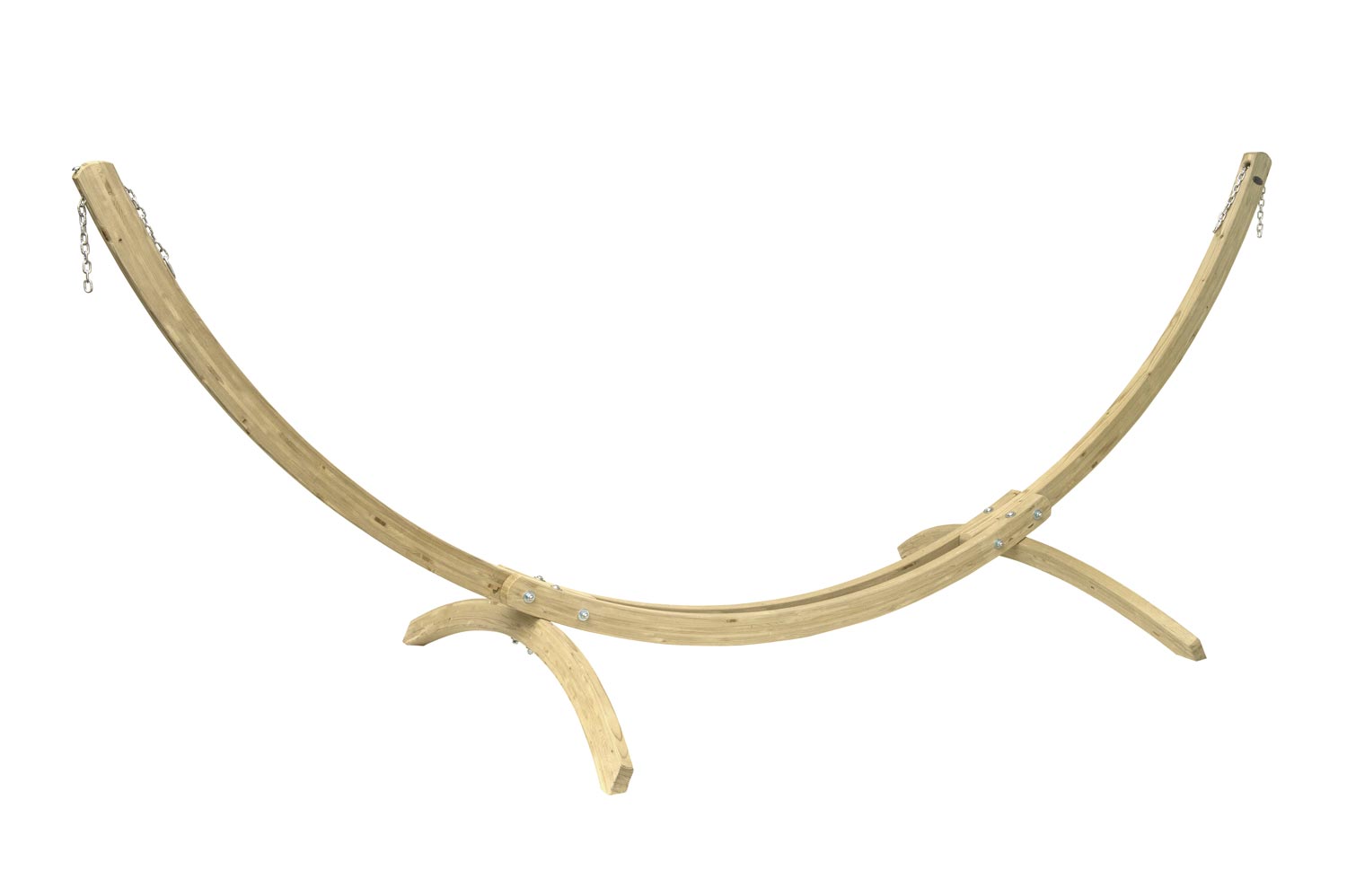 Olymp Hammock frame
Order confirmation

When we receive your order, we provide you with a confirmation to your email. In addition, when you receive your order confirmation we have pre-authorised your payment method. We check with our warehouse or suppliers to make sure that your desired item is available and can be despatched. In the event that your items are unavailable for immediate despatch, we remove the pre-authorisation from your credit card and send you an email informing you of our actions. When items are available to be dispatched, we process the charges and prepare to despatch your order.

How will my order be delivered?

All orders will be delivered using the fastest, safest, and most reliable methods. Once we process your payment, we dispatch your items within the delivery time frame stated on the product page. Then, we send you a dispatch notification after your item/s have left the warehouse. We will choose the most suitable delivery method and courier after you order. It's not possible to choose a courier or delivery method yourself.

Where does www.cosymanor.co.uk deliver?

We deliver anywhere in the UK (United Kingdom)

There may be additional charges for the 'offshore domestic regions' and 'Scottish Highlands': the Channel Islands, Isle of Wight, Isle of Man, Scilly Isles, Scottish Highlands, Scottish Islands and Northern Ireland.

If your address is outside of the UK mainland please contact for a delivery quote, either by email info@cosymanor.co.uk or by phone 02032393215
Have a question about this product? Send it to us via the form below and we will get back to you as soon as possible with an answer.